At the moment you are setting up the Ad Information phase, you can expand the Advanced Configuration Options. Once you click on it, you will see that new options will unfold to add specific details to your ad's playback.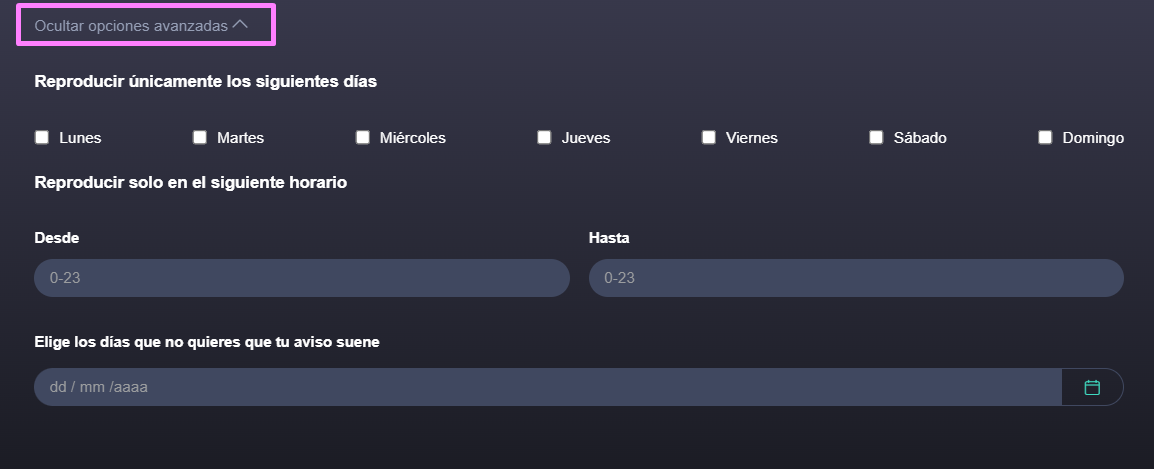 👉️ Let's see what each of the advanced options is about:
Play only on the following days
In this section, you can select the specific days on which you want your ad to play.
If no days are selected, it will be assumed that the ad is set to play all seven days of the week. However, if at least one day is selected, the ad will only play on the marked days.
Play only during the following schedule
In this section, you can set the hours during which the ad will be allowed to play in your spaces. Please note that the available hours to configure should be from 0 to 23 Hs.
Days you don't want your ad to play
In this section, you can select the days on which the ad should not be played. If you choose one or more days, the list of excluded days will increase.
Remember to use the Preview feature of the configuration to review how your setup is looking 😉️.